Learning vocabulary is a lifelong activity. While most of us would have little difficulty in recognizing a buckle, hem, or seam, we might be considerably more challenged if asked to identify a godet, a trilby, or a vamp. These are my favourite paperback publications concerning fashion details and costume design vocabulary.
Ruth Turner Wilcox, The Dictionary of Costume. New York: Charles Scribner's Sons, 1994.
From bateau necklines, bobs, and bustles to plackets, havelocks, and bavolets, terms are assembled alphabetically or in groups according to dress parts, fabrics, elements of design, and other style categories. In addition, over 950 clearly detailed illustrations depict stitches, weaves, laces, garments, collars, shoes, jewelry, hair styles, and other sartorial features.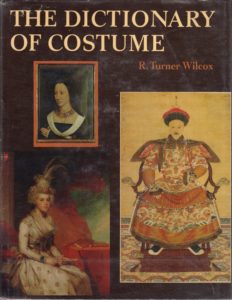 Mary Brooks Picken. A Dictionary of Costume and Fashion: Historic and Modern, 2011.
With this handy book at your fingertips, however, you can quickly find the definition of over 10,000 words associated with wearing apparel and fashion. This is the perfect reference for increasing fashion vocabularies, injecting a stimulating term or phrase in conversations about wearing apparel, or making articles written about clothing more understandable. Fashion writers, costume designers, manufacturers, buyers, sales people — anyone interested in the history of fashion — will welcome this thorough and comprehensive guidebook.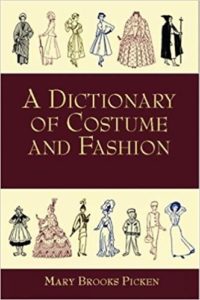 Patrick John Ireland, New Encyclopedia of Fashion Details, London: Batsford, 2008.
With close to 1000 different fashion details, this is the ultimate resource for fashion designers. This new updated and expanded edition covers fashion details from belts and bows to hemlines, necklines through to sleeves, tucks and waistbands. The details span all decades of the 20th and 21st centuries with extra feature illustrations of whole outfits from key periods to give context to certain details, from 1920s flapper outfits to bell-bottoms of the 1960s. The full range of details are: Belts; Bias cut; Bows; Collars; Cuffs; Drapes; Drawstrings; Embroidery and Applique; Fasteners and Fastenings; Frills and Flounces; Gathers; Hemlines; Insertions; Jabot; Knit; Necklines; Pleats; Pockets; Rouleau; Seams; Shirring; Sleeves; Smocking; Trousers; Tucks; Vents and Slits; Waistbands; Yokes. These details can be used for designs of clothes for women, men and children.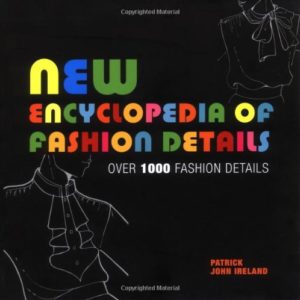 Jack Cassin- Scott, The Illustrated Encyclopedia of Costume and Fashion. From 1066 to the Present. London: Cassel & Co, 1994.
The most beguiling guide to fashion and style through the centuries now adds another 500 years to its coverage-so it's thoroughly up-to-date with the most recent international movements. From the simplicity of eleventh century dress to the excesses of punk, from the chic Madame de Pompadour to Dior and St. Laurent, this invaluable, thoroughly illustrated work showcases kings and courtiers, soldiers and dandies, musicians and models, adults and children. Informative captions accompany every color plate, providing significant details on the garment, the wearer's rank, and the period. Designers, photographers, wardrobe mistresses, historians, and anyone who loves beautiful clothing will find this a pleasure.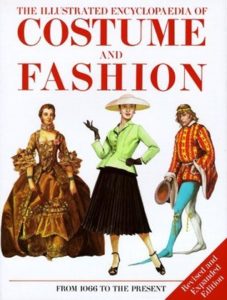 Valerie Steel (ed.), Encyclopedia of Clothing and Fashion. Vol 1-3. London: Thomson-Gale, 2005.
This reference set provides information on all aspects of clothing and adornment in human culture, from ancient Egyptian wigs to space suits. From ritual garments in societies around the world to fashion models flashing the latest styles on Parisian runways, articles cover the technology, design, and social meaning of dress throughout history. Longer essays on cultural groups and eras appear alongside shorter profiles of important people, institutions, textiles, or accessories in a convenient, A-Z sequence. Perspectives from fashion design, anthropology, art history, sociology, business, and history enrich the articles. All entries signed by specialist contributors, include bibliographies and references to related topics. Hundreds of photographs, color insert sections, and line drawings add to the set's appeal for students in high school through college, as well as journalists, designers, and anyone interested in this fascinating facet of everyday life and in this essential field of human creativity.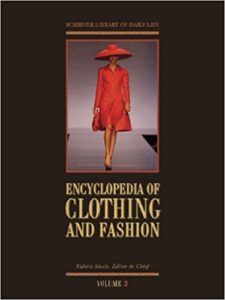 Benbow-Pfalzgraf, Taryn, ed. Contemporary Fashion. London: Thomson Gale, 2002.
This edition of the critically lauded "Contemporary Fashion" includes coverage of more than 450 designers, milliners, footwear designers, fashion companies and textile houses. Entries in this lavishly illustrated resource include a biographical summary; primary and secondary bibliography, including articles and exhibition catalogs; and a signed, critical essay written by an expert in the field.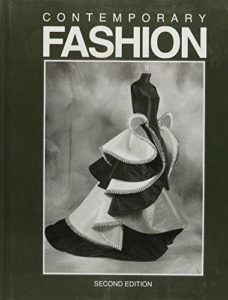 Lewandowski Elizabeth J., Complete Costume Dictionary. Scarecrow Press, 2011.
Comprehensive resource includes more than 20,000 fashion and costume terms as well as more than 300 illustrations. In The Complete Costume Dictionary, Elizabeth Lewandowski has collected from a variety of sources―including costume history texts, journal articles, historical publications, autobiographies, biographies, foreign language dictionaries, and contemporary publications―to create a resource that spans the globe, from the earliest record of fashion to the 21st century. The first section of the book is an alphabetical listing of these words with their definitions, period, and country of origin. This volume also contains appendixes that list the terms by country of origin, period, and type of clothing. The book is not limited to the Western World and includes both archaic and current terms.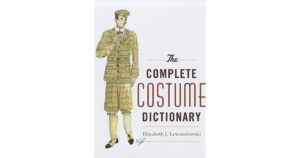 If you are tireD with English fashion vocabulary, you can start learning in French by means of Vocabulaire de la Mode – Inside CHANEL.
SŁOWNICZKI PO POLSKU
Zbigniew Parafianowicz, Szkolny słownik odzieżowy. Warszawa: WSIP, 1992.
Książka zawiera objaśnienia haseł występujących w dziedzinie odzieżownictwa. Słownik zawiera 685 haseł, zgrupowanych w 12 rozdziałach, podanych w porządku alfabetycznym, natomiast wszelkie hasła przedstawione w książce są zawarte w indeksie z tyłu książki, również alfabetycznie, aby możliwe było szybkie znalezienie interesującego nas terminu, bez znajomości tego, do jakiej grupy haseł należy. Do niektórych haseł przyporządkowane są rysunki, ułatwiające kojarzenie znaczeń. Jeżeli nie wiemy, co to jest godet, plisa, kontrafałda, punkt pomiarowy, ryps czy figura nietypowa, ta książka będzie pomocna.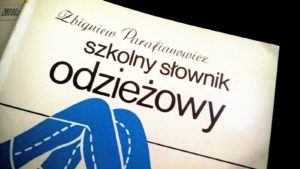 Elwira Krupa, FASHIONARY. English-Polish Glossary of Fashion Terms. 
Jest to angielsko-polski słowniczek terminów związanych z modą obejmujący ponad 5000 haseł. W skład wchodzi 20 rozdziałów. Każdy rozdział poświęcony jest innemu zagadnieniu tematycznemu i zawiera osadzone w realistycznym kontekście słownictwo i wyrażenia pozwalające na poznawanie specjalistycznego słownictwa.
POBIERZ DARMOWY EBOOK TU: https://www.fashionableenglish.pl/books/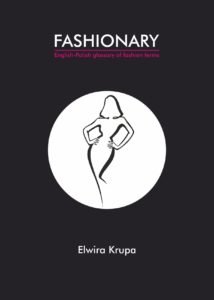 https://www.fashionableenglish.pl/wp-content/uploads/2018/03/John-Princes-51.jpg
665
1000
Elwira Krupa
https://www.fashionableenglish.pl/wp-content/uploads/2017/04/Elwira-logo-water-white-300x300.png
Elwira Krupa
2018-03-25 16:08:10
2018-06-17 16:09:44
useful fashion vocabulary books